Process analysers are critical to real time process control enabling plant control systems to quickly adjust parameters as needed to ensure product quality.

Sampling technology has evolved steadily from grab sampling to automated online process analyser systems. However, analysers can only be as accurate and responsive as the system of components that supplies them with a process sample.The engineers responsible for designing these sampling systems and the technicians managing them must be highly trained and experienced. Sampling system mistakes are always costly, are sometimes dangerous and often go undetected.
Process Analyser Systems
Measure the quality of your process by obtaining a more representative sample through Swagelok Bristol's evaluation of your Process Analyser Systems.
Ensure that your system is compliant and that you have total process control by utilising our evaluation to benchmark and measure your system against an industry-best practice.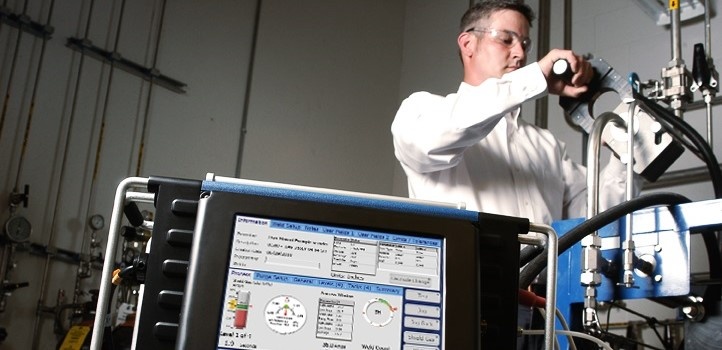 Our Field Engineers combine their comprehensive experience with our industry-leading equipment to ensure that your system is reliable, safe, and of an industry leading quality and performance.
At Swagelok Bristol we are experts in analyser instrumentation and we will ensure that your sample system improves operational costs and yield while also reducing rework by providing an objective evaluation and validation of your process and system.
All of our Swagelok Bristol Field Engineers have a minimum of 300 hours of training in this area and will work with you to implement process control and tracking to provide time sensitive information so that you can manage yield more effectively.
By offering an expert evaluation of your system with can ensure that any issues are quickly and accurately identified and solutions are developed and implemented. This will increase your system's productivity and process efficiency while also reducing operating costs and maximising your return on investment.
To find out more about our Process Analyser System services and our industry best practice standards you can call us on 01454 284455 or email our knowledgeable team at info@swagelokbristol.co.uk.
Grab Sample Systems
Improve your grab sample systems with safer, more accurate, and compliant samples. Our team of trained advisors can identify issues affecting sample quality and opportunities for enhancing system performance and safety by:
Eliminating causes of poor sample quality
Reducing required maintenance and analyser downtime by optimising system design.
Standardising sampling processes to increase safety
Our Field Engineers will help you obtain more representative samples, reduce time delay and improve compatibility with your grab sample system. You will increase productivity, reduce operating expenses and maintenance costs, and identify unseen opportunities for overall system improvement whilst providing an enhanced, safe working environment for employees.
Interested in Swagelok's Grab Sample Panels? We have a complete article dedicated to Grab Sampling - including a link to order the parts list to build your own.
Swagelok also now offers standard grab sample panel designs that can be customised to your specific needs. If a configurable sampling system with local service and support is important to you, count on Swagelok Bristol to provide a reliable system that ensures safe, efficient sample capture.
For more information on either our Process Analyser or Grab Sample system services, book an onsite visit today by calling our friendly team on 01454 284455 or email us at info@swagelokbristol.co.uk.
Swagelok's Fabrication Expertise with Grab Sampling
In this video you can understand how Swagelok offers standardised grab sampling alongside local customisations for total reliability...